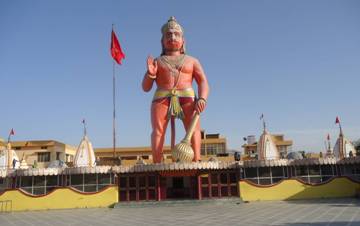 The world's largest idol of Hanumanji built in the historical city of Shukteerth in the year 1687. Its height is 72 feet together with its stoop. Seven hundred crores of names written on papers has been kept inside of it. In order to make this huge idol, famous writer of India and editor of Shri Krishna message', Mathura Revered Shri Sudarshan Singh Chakra ji took the cooperation of his devotees. He thus rendered his praiseworthy cooperation for the development of this holy place.
When Revered Shri Sudarshan Singh Chakra ji met Supreme Shri Swami Kalyandev ji Maharaj with the proposal of making a huge and beautiful idol for Shukteerth an wanted the blessings for it from him. Shri Swami ji agreed and gave his full cooperation. At that time Shri Chakraji said that Shri Swami ji has removed my all worries regarding idol making. Revered Swamiji vowed that he would not take food till the work idol making of Hanuman ji does not start. Swamiji fulfilled his vow.
The idol is located at a short distance from Shukdev Temple on the bank of Ganges. The idol was made by efficient workman Shri Keshav Ram of Sahdol. Shri Inder kumar ji rendered his praise worthy cooperation and got it completed in one years time. Now a days he is Manager/Director of it .In the courtyard, around the huge idol of Hanuman ji, rooms have been constructed for residential purpose for devotees, saints etc. On the right side of the idol of Hanumanji, the temple of Lord Rama (Ramdarbar) and the temple of Shri Radha Krishna are located, the hut of Revered Shri Sudarshan Chakra ji is located behind these temples.
There is a beautiful temple of Bhagvan Shanker ji to the right side of the idol of Hanuman ji and located nearby a beautiful temple of Ma Bhagvati Durga ji. There is a beautiful yajnashala in front of this huge idol. There is also a open courtyard in front of it . On the one side of it is kath-manch. Devotees meditate here and worship Hanumanji. This place is known as Hanumadham. The idol of Hanumanji has added one more feather to the beauty of this holy place.